As the offseason progresses, it is always interesting to see how different players from other countries will emerge into the free agent market. Whether it is from Japan, where teams pay huge premiums before they are able to begin talking about a contract, as was the case with Daisuke Matsuzaka, or Cuba, were defection is the only method to reach free agency, a path that was recently taken by Reds flamethrower Aroldis Chapman.
A lot of the focus this offseason has been on players like the latter, specifically on the biggest perceived prize, center fielder Yoennis Cespedes. Cespedes, a 26 year old slugger, hit .333 during this past Cuban National Series (the name for the Cuban season) with 33 home runs and has hit about 150 home runs since his debut during the 2003-2004 season. If that figure seems impressive to you because of the year, which would mean Cespedes debuted at 18 years old, it should, as there is much doubt about when Cespedes was actually born since it is difficult to find birth certificates from defectors. It is thought by many that he was actually born before 1985, which would make him older than his listed age of 26. Regardless of his age, there have been numerous teams connected to his signing since he defected this past summer, including the Miami Marlins, Yankees, Red Sox, Nationals, and the Phillies.
Cespedes, likely crushing a ball into the Cuban stratosphere
While this may seem surprising to some, that the Phillies would try to sign a Cuban defector center fielder who is looking to make around the same amount of money Chapman did (6 years, $30.25 million), while they still have Shane Victorino, it should not come as such a shock. Their were quiet reports that the team might try and move the 31-year-old this and last offseasons, but with larger holes elsewhere (see: shortstop), they would be wise to hold on to a player who has produced for them consistently for the past few years. A more likely scenario if the team were to sign Cespedes would be to let Victorino play out next season on the last year of his deal, allowing the younger Yoennis to show if he actually is the real thing for a season in the minors, even though many assume he is already ready to play in the major leagues immediately. If he produces, he could then be called up as a replacement as Victorino departed, but a flop would allow the team to sign Shane to an extension.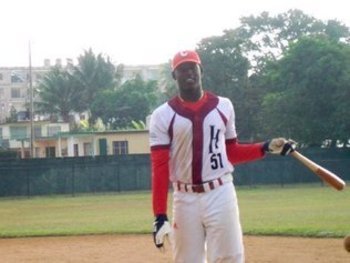 The 6'3" Soler
No matter what ends up happening in the Cespedes sweepstakes, in which the Marlins seem to lead the pack, the Phillies have also been tied closely to another Cuban outfielder, the 19-year-old Jorge Soler. According to mlbtraderumors.com, the Phillies are third in this race behind both the Yankees and Rangers for a player who stands 6'3" tall and has been praised for his upside and power potential. While these three teams may be in the lead, other teams like the Nationals and Cubs have also reportedly expressed interest as well. Soler seems to want a shorter deal than Cespedes, but his projected desired contract (3 years, over $15.5 million) would seem to demand a higher per-yer salary, a factor that does not seem to have any of the involved teams very concerned. Unlike Cespedes, Soler would likely need a few years in the minors, which would not be a big deal for a team like the Phillies that already has most of its outfield spots locked up for now, and putting a 19-year-old into the system to wait would be much more realistic than doing so with a 26-year-old.
Whichever route the Phillies take, or even if they decided that neither is worth it, it is nice to see a team that has been known for its excellent scouting and development use its recent market expansion to develop foreign scouting, and it is even nicer to know that ownership now possesses the means to potentially turn this interest into a reality should they make that decision. Broad Street Marching will keep you posted with the latest news on these moves and any others that the team makes, so stay tuned.
UPDATE 12/3:
Talks today according to MLB Trade Rumors state that the "Yankees, Tigers, and Marlins have been the clubs with the strongest interest in Cespedes" and that it could take "upwards of $50 million to sign him." This may seem to rule the Phillies out, but if you think back just one year, no one believed they were in on the signing race for a player who goes by the name of Cliff Lee, so stay tuned.