Lou Williams: a poor man's Allen Iverson?
Every Sixers fan remembers December 9th, 2006. Oh, yes, you do too. It was the day Allen Iverson requested a trade from Philadelphia after 10 years of servitude. I remember walking in from school that day, seeing all of the headlines on ESPN and thinking that all of the effort he and the Sixers had put forth over the years was for not. What I didn't realize, though, is what Iverson would leave us with 11 days later when he was traded to the Denver Nuggets. His grooming helped Iguodala become one of the best sidekicks in the NBA (although no one would properly fill the superstar void left by Iverson), his trade netted Philadelphia 2 first round picks and an incredibly efficient point guard that would eventually leave Philadelphia just as under appreciated as he entered in Andre Miller, and his example (along with the teachings of Andre Miller) would create a player with enormous potential: Lou Williams.
Williams spent much of his rookie season watching Iverson from the sidelines. Being a late second round draftee out of high school (the year break before entering the draft was declared mandatory for the following year), Williams was not given many opportunities his rookie season. Iverson's departure in the following season opened up playing time for Williams, who earned himself more minutes due to flashes of electrifying play. Still, Williams would finish the season averaging under 5 points a game with a little over 10 minutes a game. It wasn't until the following season that Williams truly flourished under the guidance of Andre Miller. In fact, it was Williams that would originally take over the starting point guard role when Miller would reject the Sixers low ball offers for more fruitful opportunities in Portland (now playing in Denver, once again). Under Eddie Jordan's Princeton offense that favors those who have high scoring abilities, Williams would flourish. Stepping into that offense's starting point guard role (along with rookie Jrue Holiday, who would replace Williams as the starter due to injuries that limited him late in the season) allowed Williams to post career highs in FG% (47%), rebounding (2.9), assists (4.2), steals (1.3), and maintained efficiency with less than 2 turnovers a game. With his repertoire displaying what he learned from the savvy Andre Miller and electric Allen Iverson, Williams future in Philadelphia was looking very bright, even though the Sixers would finish the season with less than 30 wins.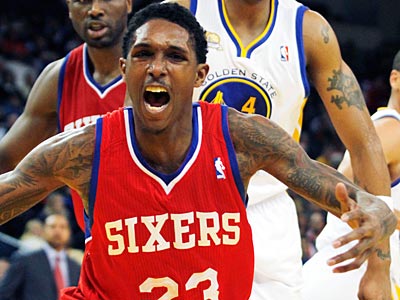 Lou Williams may need to become more efficient, but he'll never
need more confidence
Following that season, Williams lost his efficiency that looked so promising. He abandoned the patience and ball control that Miller had taught him, and took on a near replica play style that Sixers fans loved in Allen Iverson, just not as effective as the Philadelphia hero. When Doug Collins took over the coaching ranks after Eddie Jordan was laughed out of town, a new defensive based system was put in place that didn't focus on as much shooting as the Princeton offense, but efficient scoring from every position. Williams still remained a good source of scoring off the bench, but became the least efficient player on the team with a FG% of 40% flat. Williams seemed to be the only player to struggle in Collins' system (Speights as well, but he would become irrelevant to the team), and this season has taken on the role of top scorer. The only problem is, his increased point totals are based completely on an increase in attempts, and not on his effectiveness: his FG% this season has settled under 41%. Because of this, Williams has adopted his sole role of late game closer, but has he really garnered such a title?
Although Sweet Lou is thought to be the Sixers sure thing with time running down, his reputation is not exactly befitting. With 5 minutes remaining or less (including overtime) and the disparity within 5 points, Williams has made just 10 of his total 25 attempts including shooting just 4 of 13 from beyond the arc while giving up 2 turnovers on no steals and 3 assists across 8 opportunities. Certainly a late game finisher has a better trait than shooting a measly 40% from the field, right? That could possibly be his free throw game, as he's converted 15 of 17 free throw attempts: undoubtedly a great ratio. Still, many of those 15 misses he accounted for were complete commitments to getting fouled and not being rewarded, which results in wasted possessions during crunch times. His complete dependence on getting the foul call has become problematic of late, as teams have learned his tactics and have played accordingly. As these fruitless attempts add up, his overall field goal percentage had dropped significantly. In fact, his shooting has been steadily falling ever since his scorching hot start. Last month was by far the worst for the sixth man, as his percentages for February (38% FG, 33% 3-point, 80% FT) ended as season lows.
Williams is a one dimensional player on a team that wins through being multi-dimensional. No one doubts his ability to score, but his ability to do anything else is less accepted. In his 7 NBA seasons, Williams has tallied just 2 double doubles. Excluding rookie Lavoy Allen, he's the only Sixer in rotation to be without one this season.
On defense, Williams is a liability. His .8 steals per game is horrendous for someone who has played the game at the professional level for as long as he has, but when it comes to defense, it's very difficult to give a statistical analysis. His negative value on defense is nevertheless visible, though. Even when the ball is given to him late in close games, coach Doug Collins subs Williams out on defense whenever possible. For the best defensive team in the NBA, that serves as an unnecessary obstacle.
Lou Williams could be the savior of the Lakers
offensive struggles.
For these reasons, and the money he will most certainly demand after his current contract expires at the end of the season, Lou Williams should not be a Sixer next season. With his value never being higher, and players like Evan Turner, Jrue Holiday, and Jodie Meeks having the ability to fill any void left by his departure, he could very well be on his way out by March 15th, though highly improbable. For a team to want what Williams has to offer, they're going to have to surround him with defenders in the front and back court (as opposed to the Sixers, who lack strong defensive big men), while have a need to bolster their guard and scoring depth. One team that sticks out more than any other is the Los Angeles Lakers. Yes, Williams true position is shooting guard, which is filled for upwards of 40 minutes a game by Kobe Bryant, but taking minutes away from struggling point guards Derek Fisher and Steve Blake would be something that Lakers coach Mike Brown would have no problem doing. The Lakers have been struggling on offense of late, especially in late game situations; most famously against the lowly Washington Wizards when they
blew a 21 point lead
amid Bryant converting just 1 of his 10 4th quarter attempts. Without a backup plan when Bryant is struggling, Williams could step in and instantly make an impact (differing from the well balanced Sixers due to being so reliant on one player). Ultimately, Williams value to this team will be far under the type of contract that he will demand, and sending Williams out (maybe as a part of a larger deal?) will net the Sixers a lot more than if they were to reward his inefficient, yet flashy play.